Well-Known Member
Reputation: 26%
Thumbnail
Resources

Jacques Chenon
Author

Jacques Chenon
Printed File Format

PDO
Page(s)

17
Part(s)

74
Instruction Format

PDO
The Joker War Head (Batman Detective) by Jacques Chenon papercraft​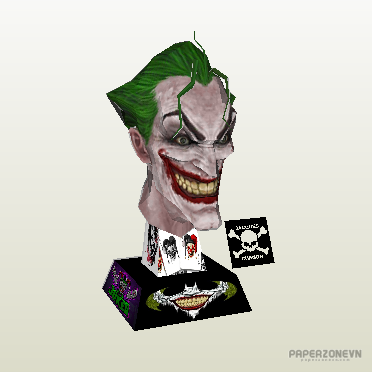 "The Joker War"
is a comic book crossover storyline published by DC Comics in late 2020, featuring Batman and his family. Primarily written by James Tynion IV, the arc is his first major arc on
Batman
in
DC Rebirth
. The main story was from
Batman
(vol. 3) #95–100, while 16 other issues were tie-ins.
The arc spans several titles featuring characters of the Batman family including:
Batman
,
Batgirl
,
Catwoman
,
Detective Comics
,
Nightwing
,
Red Hood and the Outlaws
, and
Harley Quinn
. The story involves the return of Batman's archenemy, the Joker, and his plan to destroy Bruce Wayne's reputation in Gotham City. The storyline received positive reviews for the art, action, and story. The story is also notable for prominently featuring the recently introduced Punchline, the Joker's new henchwoman and lover.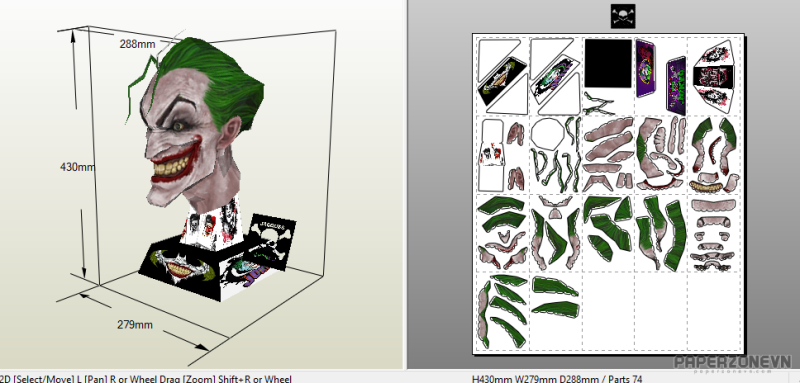 Following the revealing of Superman's secret identity and the liberation of Gotham City from Bane, one of the Joker's thugs suggests revealing Batman's secret identity to the world. The Joker, who has known for some time that Batman is Bruce Wayne, decides instead to steal Wayne's fortune and use it against him to make Gotham City lose faith in Batman. He enlists Catwoman to obtain the codes for Wayne's bank accounts, then forces Lucius Fox to give him access to all of Batman's weapons.
The Joker's thugs invade the Wayne Industries building. When Batman confronts them, the Joker's new girlfriend Punchline poisons him with her own version of the Joker toxin. Batman escapes while hallucinating under the toxin's influence. Harley Quinn nurses Batman back to health before being attacked by Punchline. Batman wakes up and defeats Punchline.
Batman gathers Dick Grayson, Jason Todd, Tim Drake, Cassandra Cain, Barbara Gordon, Stephanie Brown, Duke Thomas, and Harley Quinn. With their help, Batman takes back Gotham City, but the Joker insists that he has still won. By using Wayne's tech to cause destruction, he has shown Gotham City that Wayne Enterprises is just as corrupt as any other company. Bruce's reputation has been ruined and Gotham City no longer needs Batman. Harley Quinn says she is tired of Batman not stopping the Joker for good. She gives Batman a choice: save her or the Joker. Harley straps bombs on the Joker and herself and jumps out of the burning building. Batman chooses to save Harley Quinn as the building explodes.
A week later, Batman visits Harley and explains that when he got back, the Joker had escaped. Batman notices how Gotham City looks different. Harley says Gotham City is an ugly city with ugly people, but at least the people are alive. Batman tells Harley Quinn that he is glad she is okay, and that he just buried Alfred. Batman explains that Alfred once told him that fighting the Joker was like fighting himself, and the fighting is living, continuing on, and Batman is prepared for the fight as well as vowing to be a better man.
- Information from Wikipedia -