Active Member
Reputation: 100%
Thumbnail
Resources

ko-fi.com/toscraft
Author

toscraft
Printed File Format

PDF
Page(s)

18
Instruction Format

Image
Sengoku Majin GoShogun Papercraft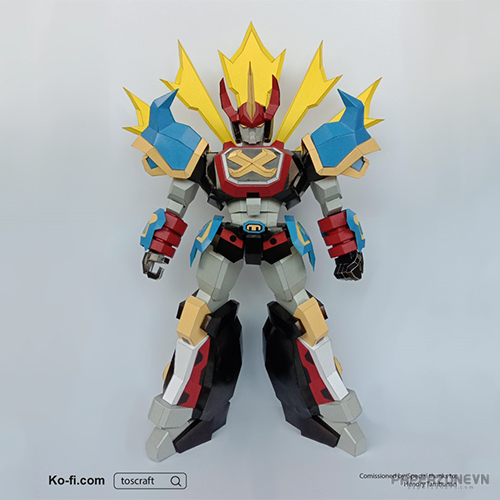 GoShogun
(戦国魔神ゴーショーグン,
Sengoku Majin GōShōgun
) is a super robot anime series created by Takeshi Shudo. It was produced and aired in 1981 in Japan, with a movie special released in 1982 and a film sequel,
GoShogun: The Time Étranger
or
Time Stranger
, in 1985. Its title has been variously translated into English as "Demon God of the War-Torn Land GoShogun", "Warring Demon God GoShogun", and "Civil War Devil-God GoShogun," but in the US and parts of Europe it is primarily known as
Macron 1
, the title of its North American adaptation.
Notes:
- The model build in photos printed on several kind of paper. Your result may be different.
WHAT YOU GET:
- 18 pdf files of size A4. Print ready.
- 5 pages instructions in JPG.
- Allowed to print it as much as you want.
WHAT YOU NEED:
- Printer
- 7 Colored paper A4 size, with thickness around 140-190 gsm. Majestic/stardream brand are two of the best
- Scissor or Cutter, whichever you comfortable with. If other person build it for you, you should give them an appropriate fees.
- Good glue. Usually pvac glue is enough.
- Empty pen for scoring along fold lines, for crisp folding.
- Good time to enjoy crafting.