Well-Known Member
Reputation: 100%
Thumbnail
Resources

Received from the internet.
Author

Unknown.
Printed File Format

BMP
Page(s)

7
Part(s)

169
Instruction Format

PDO
[Evangelion] Rei Ayanami Papercraft
Rei has short pale blue hair with bangs centered to the middle and has red eyes. At the beginning of the series, she would wear bandages such as her arm and her eye one. She wears the same school uniform but wears white loafers instead, and black ankle socks.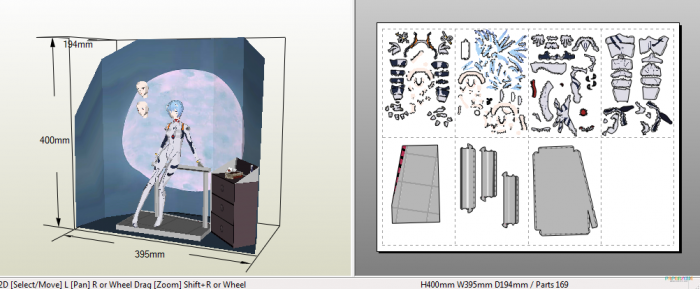 Rei Ayanami
(綾波 レイ, "
Ayanami Rei
") is a fictional character from the
Neon Genesis Evangelion
franchise. She is the First Child, (referred as the First Children in the Japanese version), the pilot of Evangelion Unit-00 and one of the central characters.
At the beginning of the series, little is known about Rei and her stoic personality puzzles her peers. As the series progresses, her personality evolves and she becomes more involved with the people around her, particularly her classmate and fellow Eva pilot Shinji Ikari. In the concluding events of the storyline, the audience learns that Rei's mysterious origins tie into the story's resolution. Her role in this conclusion is not made clear in the TV series, but is one of the principal plot points of
The End of Evangelion
.