Thumbnail
Resources
Author

紙漫糖 (pepasweetkura)
Printed File Format

PDF
Page(s)

4
Instruction Format

Edge ID
Poppy Playtime Papercraft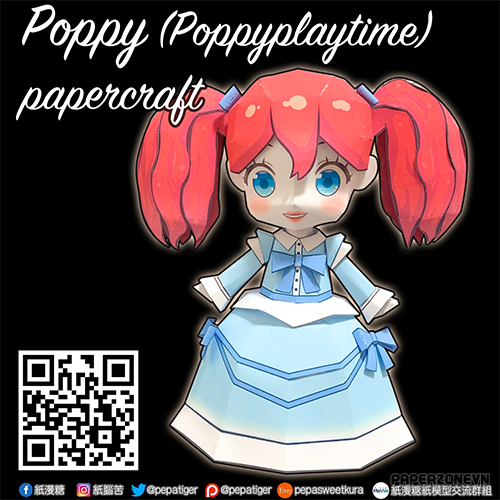 Poppy Playtime
is the first toy produced by Playtime Co., who debuted in
Chapter 1: A Tight Squeeze
. She is the titular character of the
game
, first appearing in the end of Chapter 1: A Tight Squeeze as a minor character and later re-appearing in
Chapter 2: Fly in a Web
as its major deuteragonist.
Poppy papercraft (PoppyPlaytime) A4X4 free download (now~09/09/22) https://www.patreon.com/posts/70260935 tutorial https://youtu.be/l3V5nEgPN6s #PoppyPlaytime #PoppyPlaytimefanart #papercraft
www.facebook.com
Poppy is a petite doll with chalk-white skin, freckles and rosy cheeks. She has red, curly hair tied into double pigtails, held up with a pair of powder blue ribbons. The way light reflects off her face suggests she is made from porcelain and glazed. She wears a large, flouncy powder blue gown with long frilly sleeves adorned with numerous bows, frills, and bustles, and a pair of black Mary Janes. She also wears deep red lipstick. She has a pair of thin, black eyebrows, and a pair of uncannily realistic-looking blue eyes framed by long lashes.