Active Member
Reputation: 100%
Thumbnail
Resources
Author

AlbinoPantheraLeo - AllyP
Printed File Format

PDO
Page(s)

9
Part(s)

131
Instruction Format

PDO
[Lion King] Zazu Papercraft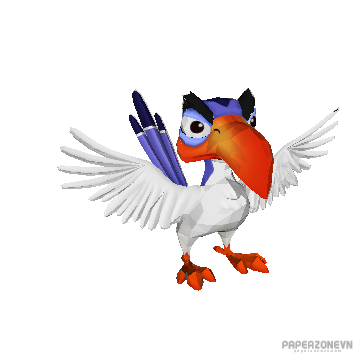 Zazu has two conflicting histories as to how he became the King's majordomo:
In the book
Friends in Need
, Young Zazu is about to be cooked and eaten by the three young hyenas (which explains his cry of "Oh, no! Not the birdie boiler!" in the first movie) Shenzi, Banzai, and Ed, when an adolescent Mufasa comes along, frightens off the hyenas and saves him. Zazu is thankful and hopes that he can be of service to the future Lion King someday. Mufasa is doubtful of this. Zazu follows Mufasa around and watches over him. Mufasa quickly gets tired of this as Zazu disturbs his hunts and his private time with his betrothed Sarabi.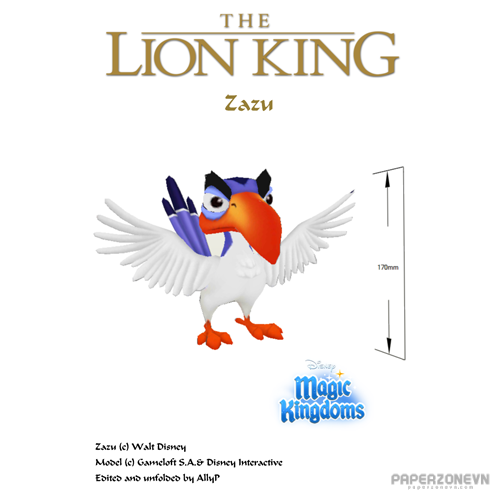 One day, Zazu notices some vultures hovering. He asks Mufasa if he wants him to fly over and see what's happening, but Mufasa is not concerned and lies down for a nap. Zazu flies over to where the vultures are anyway and sees that Sarabi has fallen into a pit and can't get out. Zazu flies back to tell Mufasa who leaps up and runs to the gorge. But Mufasa can't find a way to rescue Sarabi. Zazu finds a tree trunk that Mufasa drags over to the pit, allowing Sarabi to climb out. Mufasa realizes that the little hornbill is useful after all and appoints him as the royal adviser.
In
How True, Zazu?
, Zazu's mother, Zuzu, was a steward to Kopa's great-grandfather Ahadi. When Zazu was young, Zuzu trained him to take her place when Mufasa's rule began.