Well-Known Member
Reputation: 65%
Thumbnail
Resources
Author

AlbinoPantheraLeo - AllyP
Printed File Format

PDO
Page(s)

5
Part(s)

93
Instruction Format

PDO
[Lion King] Timon 2 Papercraft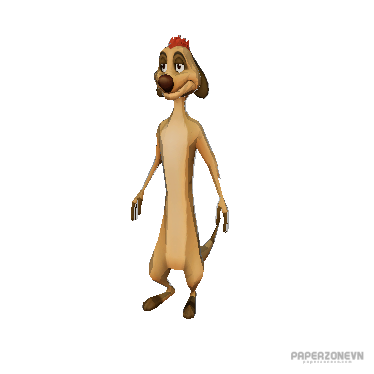 Timon is the best friend of Pumbaa, the friend and guardian (when he was a cub) of Simba, the son of Ma, and the nephew of Uncle Max. Inspired by the idea of having a major predator on their side in The Lion King, he and Pumbaa took Simba in when he collapsed of heat exhaustion and guilt after his father's death.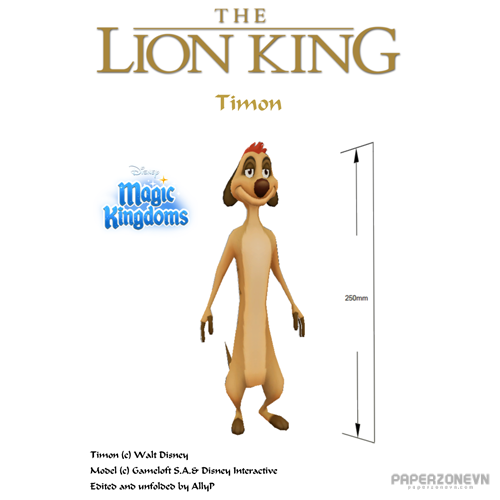 There are two versions regarding Timon's origin. In the
Timon & Pumbaa
episode "Once Upon a Timon", Timon lived in a colony that was ruled by the Duke Meerkat and every meerkat in the colony had specific duties in which they all take seriously. One day, the Duke was away and Timon had guard duty, but he left his post to speak with Princess Tatiana, the daughter of Duke Meerkat, whom Timon had a massive crush on. However, a snake invaded the colony and kidnapped Tatiana after Timon was gone. As a result, Timon got blamed for abandoning his post and was exiled from the colony. He soon met and befriended Pumbaa, who was also an outcast. The two then came across Tatiana, who was held captive by the snake, and rescued her. When Timon and Tatiana returned to their kingdom with the help of Pumbaa, Timon was offered to marry the princess and get the good life he could ever want, but he decided to live the Hakuna Matata life with Pumbaa instead.