Administrator
Staff member
Reputation: 100%
3/28/15
1,623
3,159
65
28
PaperzoneVN offers a few different paid subscription plans. This guide will help you decide which plan to choose and how to pay for it.
Free Accounts
If you have a Free account, determine the number of premium templates you want to download, the benefits you'll need. These are the major limits on each plan. If you want instant, ad-free download and download no more than 5 templates per premium category (x5 Premium categories), the Premium Mini plan will be enough for you. However, if you need more template per month, the Premium More plan is a better option.
To learn more about usage and limits, please visit the following guide: Plans and Pricing.
To upgrade from the Free plan, follow these steps:

1. Click the UPGRADE link in the navigation menu or hover over your account menu, and click the Account upgrades option as shown below: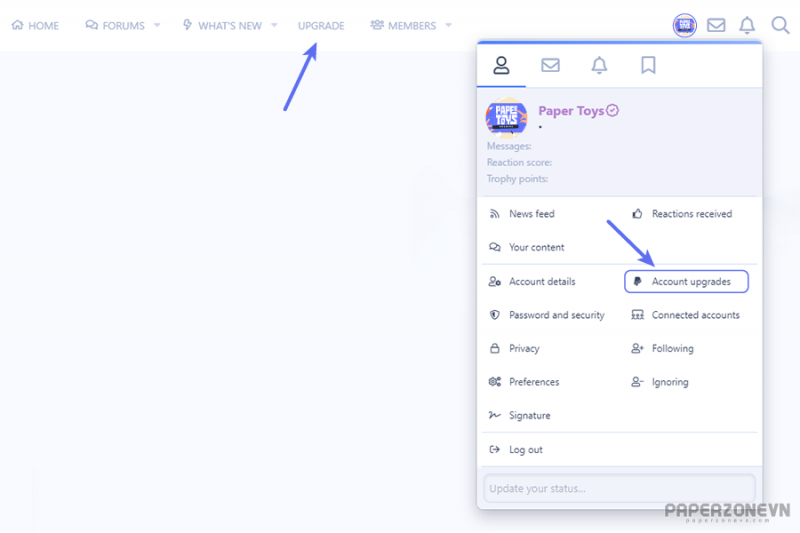 Both options will redirect you to our Upgrade page.

2. On the Upgrade page, choose the plan you want and click on the Purchase button to the right of it.




3. You will be redirected to the PayPal payment page. You have to complete the payment on that page. Otherwise, the payment will fail.
Paid Accounts
If you have previously paid with PayPal, we highly recommend canceling the current subscription and wait until your current plan expires before upgrading since our PayPal payment gateway can't yet handle the proration.
*Note that PaperzoneVN's subscriptions are recurring, meaning they will automatically renew and charge you on the same date of the original purchase unless you cancel.
For those of you in Vietnam who don't have a PayPal account
+ Payment via Momo E-wallet.
Please scan the code below and transfer the correct amount corresponding to the plan you want to upgrade. Take a screenshot of successful payment and send it to us.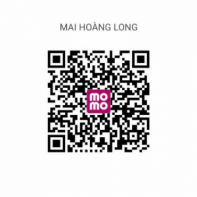 Transaction description: [Username] upgrade [Premium plan]
Example: thienlong095 upgrade Premium Max

+ Payment via Bank Transfers.


Transfer the correct amount corresponding to the plan you want to upgrade. Take a screenshot of successful payment and send it to us.



Beneficiary account: 0381000512087
Beneficiary name: MAI HOANG LONG
At the bank: Vietcombank
Transaction description: [Username] upgrade [Premium plan]
Example: thienlong095 upgrade Premium Max
Contact Support:
Our customer support team is available 24/7 and our average response time is between one to two hours.
Our team can be contacted via:

Support Forum: https://paperzonevn.com/forums/feedback.3/
Contact Support:
https://paperzonevn.com/misc/contact
​