Active Member
Reputation: 100%
Thumbnail
Author

PAPERCRAFT INFINITE
Printed File Format

PDO
Page(s)

31
Part(s)

207
Instruction Format

PDO
[Godzilla vs. Kong] King Kong (kong with AXE) papercraft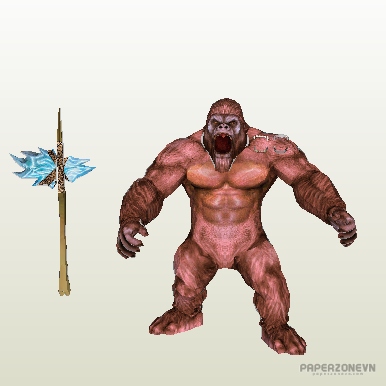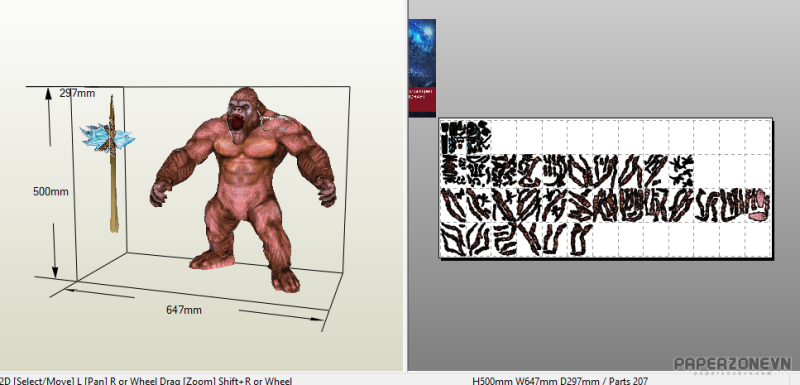 Inside the Hollow Earth, Kong and the team find an ecosystem similar to Skull Island. They discover his species' ancestral throne room, where they find remains of an ancient war with Godzilla's kind and a glowing axe made from another Godzilla's dorsal plates. As they identify the power source, the Apex team sends its signature back to their Hong Kong base despite Ilene's protests. Attracted by Mechagodzilla's activation, Godzilla arrives in Hong Kong, and sensing Kong, he directly drills a shaft to the throne room with his atomic breath. Maia and the Apex team attempt to escape in the ensuing mayhem, but their HEAV is crushed by Kong. Kong, Ilene, Jia, and Nathan ascend to Hong Kong, where Kong engages Godzilla in a final battle. Kong initially gains the upper-hand; however, Godzilla emerges victorious after incapacitating Kong.
Madison, Josh, and Bernie are caught by security and taken to Walter. Despite Ren's concerns over the power source's volatility, Walter orders him to activate Mechagodzilla. Now possessed by Ghidorah's consciousness, Mechagodzilla kills Walter, electrocutes Ren, engages Godzilla in battle and overwhelms him. Nathan revives Kong by destroying the HEAV on his chest, and Jia convinces him to help Godzilla. As Mechagodzilla overpowers both Titans, Josh short-circuits Mechagodzilla's controls with Bernie's flask of liquor on its control panel, momentarily interrupting the mech. Godzilla charges Kong's axe with his atomic breath, allowing Kong to destroy Mechagodzilla. Madison, Bernie, and Josh reunite with Mark Russell, while Godzilla and Kong agree to a truce before going their separate ways.
Sometime later, Monarch has established an observation post in the Hollow Earth, where Kong now rules.