Well-Known Member
Reputation: 100%
Thumbnail
Resources

Received from the internet.
Author

Hugo Miguel (Papergal)
Printed File Format

PDO
Page(s)

25
Part(s)

342
Instruction Format

PDO
Deadshot papercraft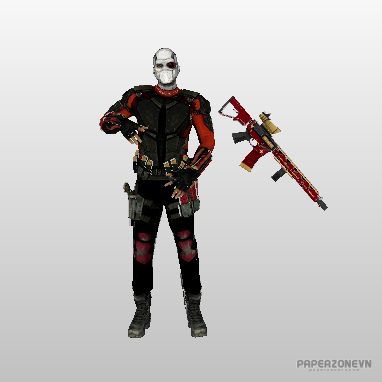 Deadshot
(
Floyd Lawton
) is a supervillain appearing in American comic books published by DC Comics. Created by David Vern Reed, Lew Schwartz, and Bob Kane, the character made his first appearance in
Batman
#59 (June–July 1950). The character was modernized with the popular look he is now known for in
Detective Comics
#474 by Steve Englehart, Marshall Rogers and Terry Austin. He is an excellent sniper who regularly boasts of never missing a shot, and is often considered one of the deadliest assassins in the DC Universe. Deadshot is an adversary of the superhero Batman and belongs to the collection of enemies that make up his rogues gallery. Though mostly portrayed as a supervillain, he is sometimes depicted as an antihero.
The character has been substantially adapted from the comics into various forms of media, including television series, feature films, and video games. Years after a one-off appearance, Deadshot became a recurring popular Batman villain following Detective Comics #474 and eventually joined the Suicide Squad. Deadshot was portrayed by Bradley Stryker in the final season of
Smallville
, by Michael Rowe in the Arrowverse, and by Will Smith in the DC Extended Universe, starting with the 2016 film,
Suicide Squad
. IGN ranked Deadshot as the 43rd-greatest comic book villain of all time in 2009.