Active Member
Reputation: 100%
Thumbnail
Resources
Author

AlbinoPantheraLeo - AllyP
Printed File Format

PDO
Page(s)

10
Part(s)

149
Instruction Format

PDO
[Zootopia] Nick Wilde Papercraft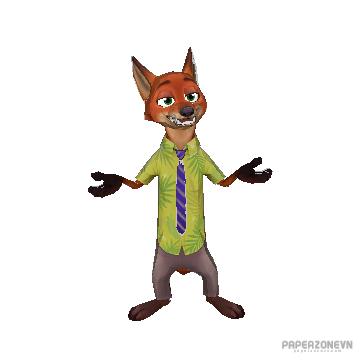 Nick Wilde
is the deuteragonist of Disney's 2016 animated feature film,
Zootopia
. He is a con-artist fox in the city of Zootopia who finds himself compelled to aid Officer Judy Hopps, a rabbit, in her investigation. Despite their differences, Nick forms a friendship with Judy, who helps him realize he can be more than his stereotype. Nick makes good on this lesson by becoming a police officer and Judy's partner.
Nick is a fox with a slim build. He's covered in red-orange fur with a cream underbelly up to his muzzle. He has dark auburn fur on his feet, his hands, the tips of his ears, and at the tip of his tail. He has green eyes and a dark purple nose.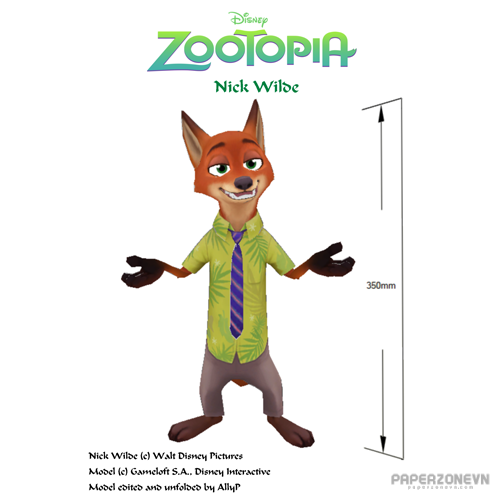 Nick professionally wears a light green Hawaiian shirt, a dark indigo necktie with red-and-blue stripes, and a pair of khaki pants. While helping Judy during her investigation, he wears a junior ZPD badge sticker over the pocket of his shirt, originally a gift from Judy for Finnick before the latter humorously passed it onto Nick. The sticker is removed after Judy's press conference when Nick feels hurt by her.
After Nick graduated into a police officer, his fox-size uniform is navy blue with sleeves, a peaked cap, a high collar, and pants with a gold aiguillette and the ZPD insignia on his shoulders, along with having a black tie and a utility belt filled with various paraphernalia. He's also shown wearing police sunglasses.