Thumbnail
Resources

yamaha-motor.com
Author

Yamaha
Printed File Format

PDF
Page(s)

34
Instruction Format

PDF
Yamaha YA-1 papercraft
In 1955, the Japanese market was brimming with motorcycle manufacturers. Genichi Kawakami was then-president of musical instrument manufacturer Nippon Gakki (presently Yamaha Corporation), and he had a firm belief that, "If we can build a world-class motorcycle, we can definitely be competitive." Under his leadership, the YA-1 was developed and marketed, and Yamaha Motor Co., Ltd. founded shortly thereafter.
In those days when most motorcycles were black, the YA-1 stood out with a striking maroon and ivory white exterior, and to ensure high precision and quality, each and every YA-1 was hand-built.
In order to prove the YA-1's exceptional quality and performance as well as gain recognition among motorcyclists, President Kawakami decided to enter the YA-1 into the nationally contested the third Mt. Fuji Ascent Race. Teruo Okada rode the YA-1 to win the 125cc class time trial race, but what was equally impressive was that YA-1s placed 3rd, 4th, 6th, 8th and 9th, utterly dominating the event.
At the 1st Asama Highlands Race held three months later, the YA-1 completed another astounding feat by sweeping 1st through 4th places. By dominating the two biggest races in Japan at the time, word of Yamaha Motor and the YA-1 soon reached the ears of motorcycle enthusiasts across the country. Every member of the race team learned firsthand that fully dedicating themselves to overcoming whatever the challenge is at hand will lead to results, and gave birth to the Spirit of Challenge that lives on at Yamaha today.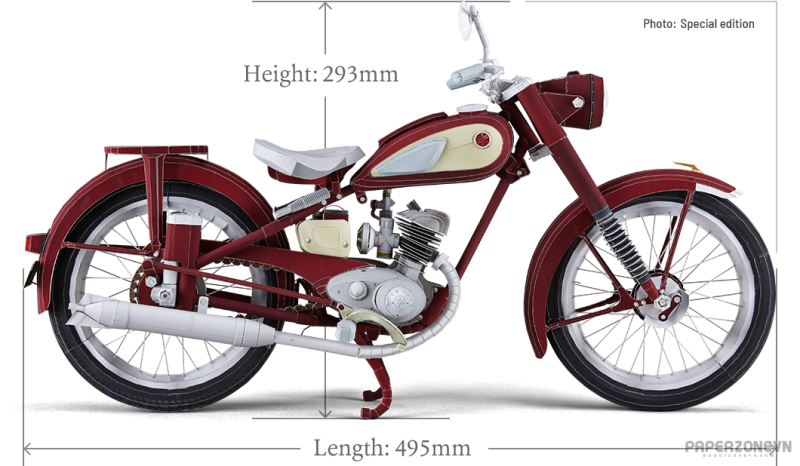 There are two versions of the YA-1 Ultra-Realistic Paper Craft: the "standard edition" following the pattern of previous ultra-realistic models, and the "special edition" featuring wheel spokes recreated with string and a more realistic looking chain. Also, there is a pre-colored version and an uncolored white version available for each edition.