Well-Known Member
Reputation: 100%
Thumbnail
Resources

gincraftpaper.blogspot.com
Author

Gincraftpaper
Printed File Format

PDF
Page(s)

27
Part(s)

211
Instruction Format

PDO
[My Hero Academia] Fumikage Tokoyami and Dark Shadow papercraft
Instruction: PDO
Fumikage Tokoyami
(常とこ闇やみ踏ふみ陰かげ
Tokoyami Fumikage
), also known as the
Jet-Black Hero: Tsukuyomi
(漆黒ヒーロー ツクヨミ
Shikkoku Hīrō Tsukuyomi
), is a student in Class 1-A at U.A. High School, training to become a Pro Hero.
Fumikage is a short young man with the head of a black bird, possibly supposed to resemble that of a crow or a raven. He has a tan, yellowish beak which is slightly hooked down at the end, thin, red eyes with a small black pupil, one on each side of his head, and a red choker, which he rarely removes. Despite the appearance of his head, however, his body is of normal human shape, with rather fair skin. After his internship training with Hawks, Fumikage has become more muscular.
His costume consists of a robe, black, but tinted a dark purple where light hits it, that covers his entire body, only stopping halfway down his shins, and knee-high black boots. During the Joint Training Arc, it was revealed that under this cape he wears a dark t-shirt, wristbands, a pair of baggy pants, similar to the ones Katsuki Bakugo wears in his hero costume, and a utility belt with a double pin buckle.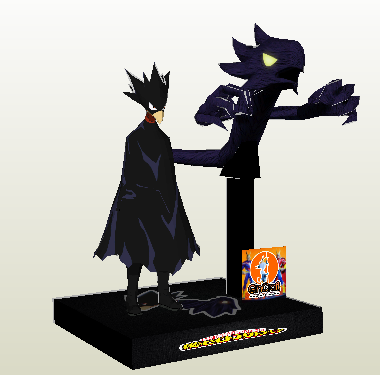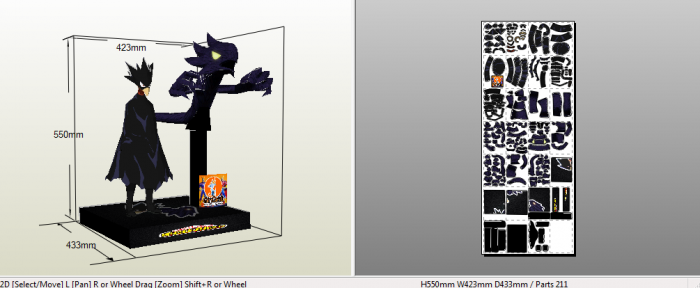 Last edited by a moderator: