Thumbnail
Resources

Received from the internet.
Author

Model Card
Printed File Format

PDF
Page(s)

16
Instruction Format

PDF
[Model Card 091] The Katyusha rocket launcher Papercraft
The Katyusha rocket launcher ( Russian : Катюша ), also known as the Cachiu-sa cannon, is a type of rocket launcher designed by Georgy Langemak and built by the Soviet Union during World War II . second war . Compared with traditional cannons, Katyusha has the ability to bomb a large area in a very short time with high destructive power, in return for low accuracy and long reload time. In addition, this mass rocket launcher has the advantage of being cheap, easy to manufacture, compact and easy to maneuver. Therefore, it is specially used to bombard large-scale targets such as infantry marching formations, artillery positions, buildings, and fortifications of the enemy.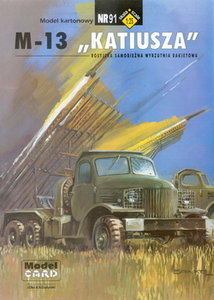 Last edited by a moderator: