Active Member
Reputation: 100%
Thumbnail
Resources
Author

AlbinoPantheraLeo - AllyP
Printed File Format

PDO
Page(s)

14
Part(s)

75
Instruction Format

PDO
[Lion King] Pride Rock papercraft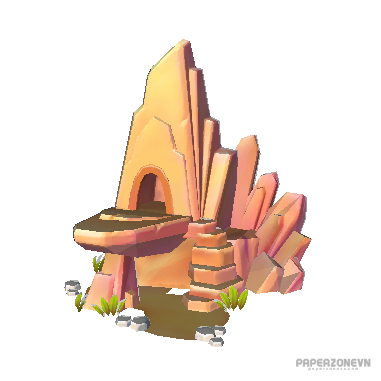 Pride Rock
is an ancient and massive rock formation located in the vast Pride Lands, made famous by The Lion King franchise. It is the home to Simba, the protagonist of the original film and its sequel.
Pride Rock is the home of the Lion King of the Pride Lands and his lioness, and functions as his throne and palace. The pride makes their den in a cavern in one part of the formation. It is shown to be so tall, that one can see the entire Pride Lands from its peak, and vice versa. The formation can be seen from any part of the Pride Lands. Because of this, the area serves as a gathering place for many events as well as a key part of the Circle of Life, as when a new prince or princess is born, they are presented to the entire kingdom from the peak of Pride Rock.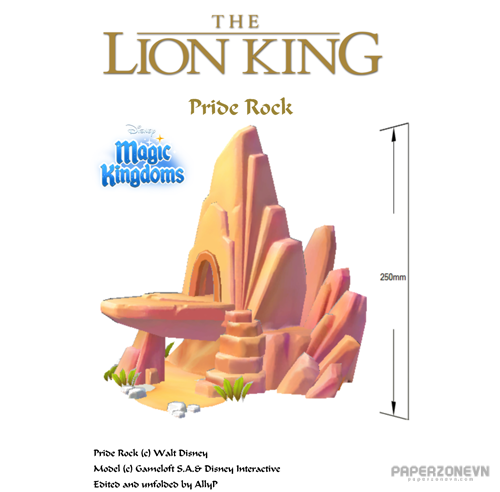 At the start of the The Lion King, animals from miles away gather around Pride Rock to witness Mufasa and Sarabi's newborn cub Simba being presented in front of them by Rafiki, with Rafiki standing on the formation's peak. Pride Rock is later shown with the landscape around it dying in the wake of Mufasa's death and Scar becoming the new king, which had apparently cursed the Pride Lands as no rain had fallen for a very long time, and is nearly consumed in flames before the rains extinguish them. Simba then ascends to the throne of Pride Rock and lets out a mighty roar, which echoes across the rainy Pride Lands.
One other tradition that seems to persist is that when a new ruler takes the throne, he climbs to the top of Pride Rock, and lets out a roar across the kingdom. Animal herds are also known to gather at other times. At the conclusion of the first film, animals gather around Pride Rock again to witness the presentation of Simba and Nala's newborn cub.