Active Member
Reputation: 100%
Thumbnail
Resources
Author

AlbinoPantheraLeo - AllyP
Printed File Format

PDO
Page(s)

10
Part(s)

156
Instruction Format

PDO
[Lilo & Stitch] Stitch Ver. 4 Papercraft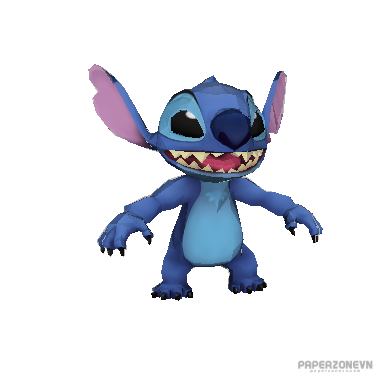 Designed by his voice actor Chris Sanders, Stitch is a blue alien genetic creation standing around three feet tall. He strongly resembles a koala or a French bulldog and is referred to as both throughout the franchise, especially since humans (with the exception of Lilo, Nani, Cobra, and David) are completely oblivious to the fact he is an alien. He has sharp teeth inside his mouth along with a long pink tongue. A short, stumpy tail cuts out from his rear. He has a limited ability to change his physical appearance, only able to retract his second set of arms, his antennae, and the three spines on his back into his body.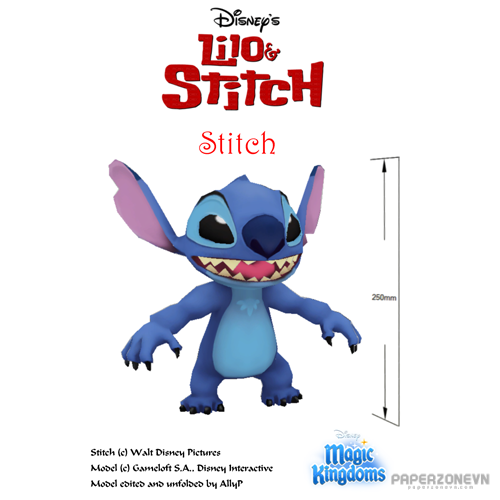 When Stitch was first introduced by Jumba, and during his time as a criminal, he donned a red spacesuit with an upside-down triangle consisting of a red border and yellow center on the chest. Similar patches adorned the elbows of the sleeves and square patches consisting of a dark red border with an orange center showed on each of his legs. He also wore a black belt with a crimson square buckle, and his cuffs, anklets, and collar were also black. The suit survived when he crashed on Earth, but it was torn to pieces when he was run over by a convoy of trucks.
When Stitch was captain of the B.R.B. 9000, he donned a black spacesuit similar to that of Gantu's which consisted of a black shirt with thick red brims on his shoulders. Unlike Gantu's tank shirt, this suit features wrist-length sleeves with red cuffs, along with matching vertical linings on both sides of the shirt and trousers. He also wore a gray belt with a light gray "V" on the front, along with a small gray mark on the upper left chest that resembles a tear drop with a black dot on it. The suit was destroyed during his fight with Leroy.