Thumbnail
Resources

lazylife.at-ninja.jp
Author

Unknown.
Printed File Format

PDF
Page(s)

5
Instruction Format

PDF
Bell Boeing MV-22 Osprey Papercraft
The Bell Boeing V-22 is an American rotary-engine multirole military aircraft, capable of both vertical take-off and landing (VTOL - Vertical Take-Off and Landing) and short take-off and landing (VTOL). STOL - Short Take-Of and Landing). It is designed to combine the functions of a conventional helicopter with the long range, high speed, and cruise performance of a turboprop aircraft.
The V-22 project began with the US Department of Defense's vertical take-off and landing pilot program that began in 1981. The Bell Helicopter and Boeing Helicopters research team was awarded a development contract in 1983 for rotary engine aircraft. The V-22 made its first flight in 1989, and began test flights and design changes. The complexity and difficulty of building a rotary engine aircraft for military purposes for the first time in the world led to many years of development.
The US Marine Corps began crew training for the Osprey in 2000, and deployed it in 2007; it complements and subsequently replaces the Boeing Vertol CH-46 Sea Knight. Osprey's other operating agency, the US Air Force, also deployed their version of the aircraft in 2009. Since entering service with the US Marines and Air Force, the Osprey has been deployed. deployed in transport and medical operations in Iraq, Afghanistan, Libya and Kuwait.
- Source: Wikipedia -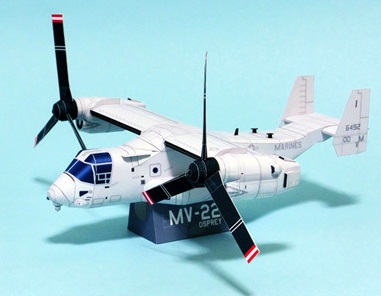 Last edited by a moderator: