Active Member
Reputation: 100%
Thumbnail
Resources
Author

AlbinoPantheraLeo - AllyP
Printed File Format

PDO
Page(s)

8
Part(s)

144
Instruction Format

PDO
Bambi Ver. 2 Papercraft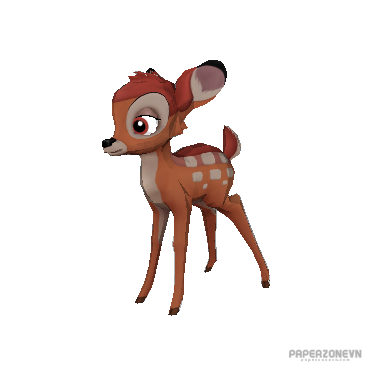 Bambi
is the titular protagonist of Disney's 1942 animated feature film of the same name. A deer living in a forest, he is best friends with Thumper (a rabbit) and Flower (a skunk). However, he was closest to his mother, who was shot and killed by a hunter during his first winter. Raised into a buck by his father, he strongly falls in love with his childhood sweetheart and love interest, Faline, and they end up, later on, having twin fawns, a son and daughter named Geno and Gurri, respectively.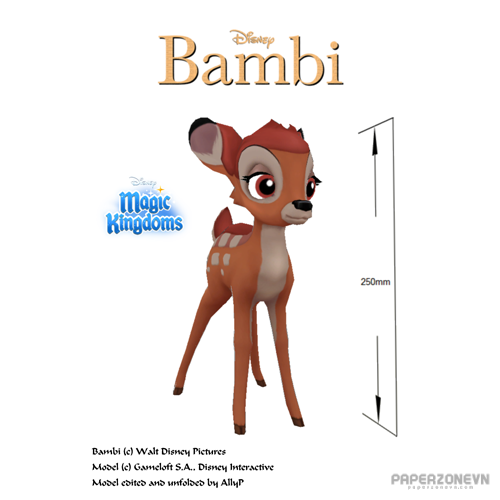 As a fawn, Bambi had a fur coat of safety orange and wheat spots and underbelly with a brown stripe that ran from his head down to his tail. He also had a grey stripe on each side under the top row of his spots. He had black slippers and wide red eyes with tiny eyelashes. He had a large head with fuzz on it, and large ears with black tips. Bambi remains the same except he ended up as Little Joe that has a tron blue, greenish blue and deep sky blue vest. The grey stripes now stopped on each side under the top row of his spots. In The Ballad Of Little Joe, he is much more personalized than any other.
When he is a teenager, Bambi remains the same except he no longer has spots or the grey stripes, his fur is a little darker, and has budding antlers.
As an adult, Bambi has darker brown fur, a slightly muscular frame, and black antlers with two points. The wheat stripe on his neck and underbelly now stops under his head and continues above his chest.