Thumbnail
Resources

Received from the internet.
Author

Unknown.
Printed File Format

PDF
Page(s)

12
Instruction Format

PDF
Argo Ship papercraft
This is the Argo ship from "Greek Mythology".
The only surviving Hellenistic epic, Argonautica by Apollonius of Rhodes tells the legends of Jason and his Argo companions, known as the Argonauts, to regain the Ministry. The Golden Fleece from the mythical land of Colchis. In Argonautica, Jason is forced on a quest by the usurper king Pelias, who receives an oracle that a man with a slipper will punish him. Jason loses his slipper in a river, arrives at the court of Pelias, and the epic begins. Nearly every member of the next generation of heroes, like Herakles, joined Jason aboard the Argo in search of the Golden Fleece. This generation also includes Theseus, who traveled to Crete to slay the Minotaur; Atalanta, a heroine; and Meleager, who finished off the wild boar of Calydon. Pindar, Apollonius and Bibliothēkē have attempted to give complete lists of the Argonauts.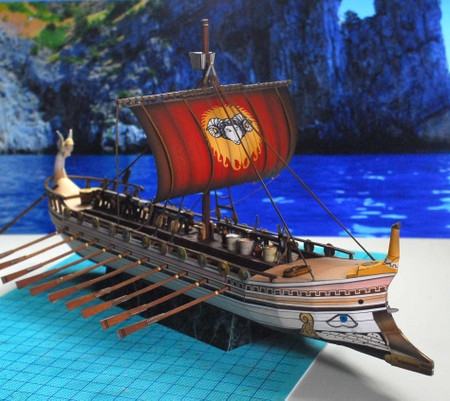 Although Apollonius wrote his song in the third century BC, parts of the story of the Argonauts appear earlier than Odýsseia, the epic showing close proximity to Jason's exploits (re Odysseus's lore may be partly based on it). In antiquity this expedition was seen as a historical fact, an episode in the opening of the Black Sea to Greek trade and colonization. The story of the Argonauts is also particularly popular (similar to the myth of Herakles), forming a collection of stories to which a number of local legends are associated. In particular, the story of Medea captures the imagination of tragic poets.