Thumbnail
Resources
Author

紙漫糖 (pepasweetkura)
Printed File Format

JPG
Page(s)

1
Instruction Format

Unavailable
[Teletubbies] Laa-Laa Papercraft
1 sheets = small,
3 sheets = large
Laa-Laa
is the third Teletubby played by Nikky Smedley (from 1997 - 2003, 2007, 2009) in the original series and Rebecca Hyland (from 2015 - present) in the new series. She is yellow and has a curly antenna on her head. Her favourite thing is a giant orange ball.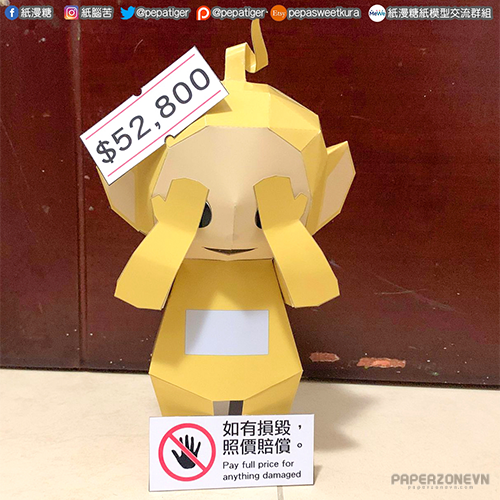 Laa-Laa is very girly. She likes playing with her ball, singing and dancing and doing ballet in the skirt and sings'Laa-Laa-Li-Laa-Li-Laa-Li-Laa' to herself, hence her name. When Laa-Laa gets frustrated, she sometimes says a rather strange word'BIBBALY-CHEESE'. She is often seen looking out for the other Teletubbies. She is a silly and cute Teletubby, and most of the time she has a cheerful personality. She is as intelligent as Tinky Winky and Dipsy and Po. She knows where places are and likes playing with the other Teletubbies. Laa-Laa often hangs out with Po and Dipsy and even occasionally Tinky Winky.
Laa-Laa is 6 feet and 6 inches tall. She is the second smallest Teletubby, as she is a bit bigger than Po. Her antenna is a curly shape like when a vine is growing. In the new series, Laa Laa's face is slightly brighter than in the original series.