Review
Resources

Received from the internet.
Author

Paper Masters
Printed File Format

PDO
Page(s)

6
Part(s)

91
Instruction Format

PDO
[Mighty Morphin Power Rangers] Green Ranger Chibi Papercraft
Instruction: PDO
Dr. Thomas "Tommy" Oliver
is a Power Ranger veteran and considered a legend among the Ranger community. He is often considered to be the greatest Power Ranger of all time, having been part of four Power Ranger teams over the years. Tommy's career as a Power Ranger did not start like most, as he was chosen by Rita Repulsa to become her evil Green Ranger, making him the first evil Ranger in Power Ranger history. He was tasked with destroying the original team of Power Rangers and had nearly succeeded, although he was ultimately defeated and was released from Rita's control by the original Red Ranger, Jason. Having turned good, Tommy helped the Rangers in defeating the forces of darkness and was made an official member of the team. In doing so, not only did Tommy prove himself to be a worthy ally, but he became exactly the kind of leader the Rangers needed and was therefore promoted, taking command from Jason. Tommy has gone through a number of power variations through the years. Originally the first
Green Ranger
of the
Mighty Morphin Power Rangers
. Those powers ran dry and he became the
White Ranger
and the
White Ninja Ranger
of the same team,
Zeo Ranger V Red
of the
Zeo Rangers
, and the first
Red Turbo Ranger
of the
Turbo Rangers
. He later became the love interest and husband of Katherine Hillard.
After Tommy's adventures as a Ranger were complete, he went to college where he received a Doctorate in Paleontology in a mere six years (in "Shift into Turbo", it mentioned he was in the class of 1997, whereas in "Thunder Struck Part 2", it mentioned the others in the class of 2004, showing that Dino Thunder started in 2003). He later traveled to Reefside and, in an effort to stop some of his mutations, became the mentor of a new set of Power Rangers. He later took up the mantle of a Ranger once more and became the
Black Dino Ranger
of the
Dino Rangers
. After Tommy's adversary, Mesogog, was defeated, he retired from Ranger duty and is currently a normal high school teacher at Reefside. However trouble arose as Prince Vekar drove his enemy fleet onto the grounds of Earth, which forced Tommy's hand to unite the remaining Rangers to defeat The Armada.
Retroactively, he is also referred to as the
Mighty Morphin Green Ranger
or
Green Mighty Morphin Ranger
,
Mighty Morphin White Ranger
or
White Mighty Morphin Ranger
,
Zeo Red Ranger
or
Red Zeo Ranger
as well as
Dino Thunder Black Ranger
or
Black Dino Thunder Ranger
, though these are in reference to the show, as opposed to proper labels. He was also retroactively labeled as
Turbo Red Ranger
- a variation on his in-show label.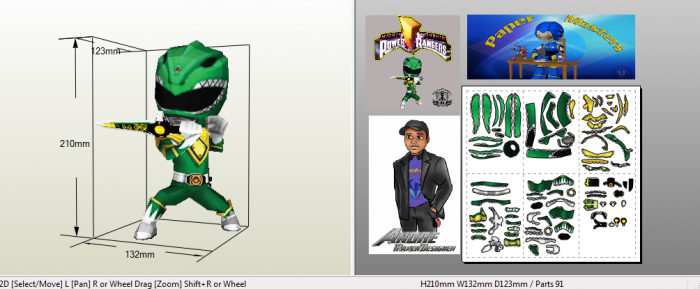 Last edited by a moderator: