Thumbnail
Resources

David Alvarez (fb.com/profile.php?id=100044806398397)
Author

Raipaper
Printed File Format

PDO
Page(s)

10
Part(s)

64
Instruction Format

PDO
La Calavera Catrina Ver. Halloween papercraft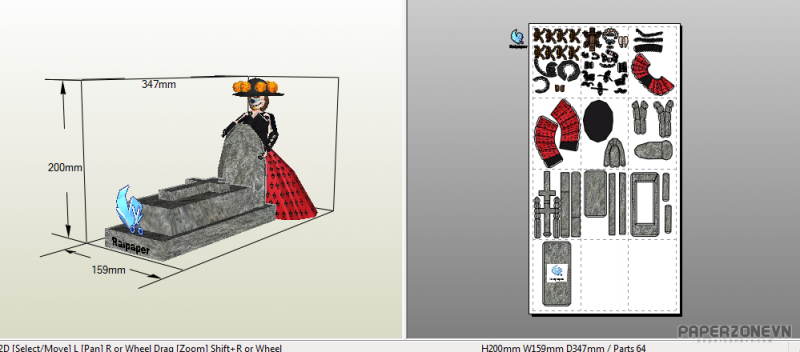 La Calavera Catrina
or
Catrina
La Calavera Garbancera
('Dapper Skeleton', 'Elegant Skull') is a 1910–1913 zinc etching by the Mexican printmaker, cartoon illustrator and lithographer José Guadalupe Posada.
La Catrina
has become an icon of the Mexican Día de Muertos, or Day of the Dead.
"La Catrina has become the referential image of Death in Mexico, it is common to see her embodied as part of the celebrations of Day of the Dead throughout the country; she has become a motive for the creation of handcrafts made from clay or other materials, her representations may vary, as well as the hat." – J.G. Posada
While the original work by Posada introduced the character, the popularity of La Calavera as well as her name is derived from a work by artist
Diego Rivera
in his 1947 completed mural
Sueño de una Tarde Dominical en la Alameda Central
(Dream of a Sunday afternoon along Central Alameda)
.
Rivera's mural was painted between the years 1946 and 1947, and is the principal work of the "Museo Mural Diego Rivera" adjacent to the Alameda in the historic center of
Mexico City
. It measures 15 meters long and it stood at the end of Alameda Park. The mural survived the 1985 earthquake, which destroyed the Del Prado hotel, and was later moved across the street to the
Museo Mural Diego Rivera
, built after the earthquake for the purpose of housing and displaying Rivera's restored mural.