Well-Known Member
Reputation: 100%
Thumbnail
Author

That Crafty Rachel
Printed File Format

PNG
Number of pages

5
Moon and Cloud Light Box / Shadow Box Template.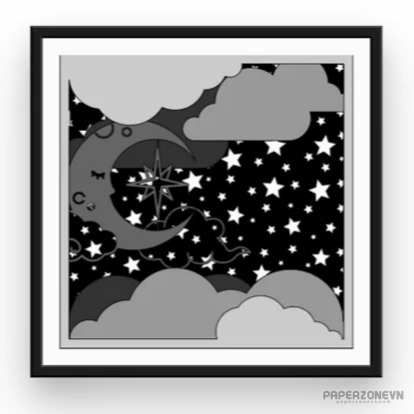 Suitable for use with a cricut or silhouette machine.
Supplied in SVG, AI, DXF, PDF and PNG formats.
Useful Information:
– These can be use using a sharp hobby knife if you do not have a cutting machine such as a cricut or silhoutette machine. You would need to mirror the image and then print it before cutting. Mirroring the image would ensure that any printed ink is not on the visible side of the paper. It would also be advisable to print in a light colour if creating a LED shadow box instead of a colour layered cut.
– Paper/card recommended thickness is 180 – 250 gsm if creating an LED shadow box. Any thinner would make the paper too flimsy to work with and any thicker means not enough light will be able to penetrate the paper.