Administrator
Staff member
Reputation: 100%
Frequently Asked Questions​
Most questions from our members and here are our answers
​
Papercraft​
Papercraft, also called card models or paper models, are models constructed mainly from sheets of heavy paper, paperboard, or card stock.
This may be considered a broad category that contains origami and card modeling. Origami is the process of making a paper model by folding paper without using glue. Card modeling is making scale models from sheets of cardstock on which the parts were printed, usually in full color. These pieces would be cut out, folded, scored and glued together. They are generally more popular in Europe and Japan than in the United States.
The images are made by unfolding a 3D computer graphic into 2D using
Pepakura, a program designed specifically for papercraft, or Ultimate Papercraft 3D. These 3D images are either made by graphic softwares, or taken indirectly from the video game. A few models are hand drawn using trial and error.
You can really use any tools you like! You should try to get some basic tools though:

Knife: I always use an X-Acto knife with a Classic #11 blade, but you can use any other crafts knife of course; many people use a "breakaway knives" where you can break off a piece of the blade when it becomes dull.
You can also use scissors of course, but try to find small ones, because it can be difficult to cut small parts with a big pair of scissors. And sometimes you still need a knife to cut small slits or cut pieces out of the inside of parts.

Cutting mat: to avoid cutting into your table- or desktop, use a rubber, self-healing cutting mat to put underneath your sheet of paper when you're cutting out the parts. And then like I said, there are lots of optional tools you can use.

Toothpick: sometimes your fingers are just to big to reach inside a piece you're building when you really need to, so in those cases, you can use a toothpick, or the back of a spoon. You can also use toothpicks for pre-shaping small cylinders, by simply rolling the parts around the tootpick.

Embossing pen/ballpoint/mechanical pencil: to make sharp, crisp folds, you can score the fold lines first with a special embossing pen (a "pen" with a small metal ball at the end), but a "dead" ballpoint pen (one that doesn't write anymore; make sure of that of course!) or a mechanical pencil without the lead do the same thing.

Coloured markers/coloured pencils: to get rid of the "white lines" from the edges of the paper on paper models, you can colour the edges of the paper in the appropriate colour with markers or pencils after cutting out the parts ("edge-colouring").

Tweezers, clothespins/clothes pegs: or whatever else you can think of or might have lying around the house and think could be useful!
Papercraft is an inexpensive hobby that requires planning and hand-eye coordination. Many model hobbyists became attracted to papercraft because it offers a greater variety of free and difficult models to build.
There are so many papercraft subjects, that accurate classification seems to be a very difficult job, so the categories are based on the paper model themes (such as: Movie, game, flora & fauna, robot & mechanical, military, civil, architecture, origami, etc.), but you can use frefixes / tags for more detailed categories or themes (for example, you can click on the tag "dog" for many Dog Paper Models). Of course, you can also use the search function to find the paper model which you want to get.
We look forward to and welcome you to upload your designs! Read
this article
for how to create a new thread.
None of the Pepakura PDO files posted on PaperzoneVN require a password in order to open. PDO files (papercraft templates) are created with Pepakura Designer. PDO files may be opened, viewed and printed using Pepakura Viewer. Both programs are available for download here. Pepakura Viewer is free. Pepakura Designer is not. If the creator of a papercraft template has locked a PDO file to prevent editing, then the PDO can only be opened with Pepakura Viewer. If you attempt to open a locked PDO file with Pepakura Designer, then you will get a pop-up asking for a password. So, the easiest way to avoid the password problem is to always open PDO files with Pepakura Viewer.
Some templates seem missing left or right side, you could Mirror Print them. To print the mirror image of a document (You can also search "Mirror Print" within google, bing or other SE):

WINDOWS Operating System
Open the file you want to print.
On the File menu, select Print.
Click Properties.
Click the Layout tab, then select Print mirror image.
Click OK.
Click OK.

MAC OS
In Apple Preview, open the file you want to print.
On the Tools menu, select Flip Horizontal.
Subscription​
A free account receives basic access to all of our categories. A Premium account has a paid subscription, and receives additional benefits.
If you're a new member, try PaperzoneVN Premium
here
!
Yep! The easiest way is to unsubscribe and then resubscribe to your preferred plan at the end of the current billing cycle. If you can't wait,
contact us
and we'll be happy to help you out.
There are two ways you can purchase a premium subscription: either using a credit/debit card, or by using a PayPal account.

Purchasing with a credit/debit card
At checkout, you can simply input your card information and, if accepted by our payment process, you will be charged on that card. Any refunds will be done through the card used to make the purchase.

Purchasing with a PayPal account
If you choose PayPal at checkout, you will be asked to log into your PayPal account. You will then be asked which payment method you would like to use. Please note that you need to use a card or other attached form of payment, as PayPal does not allow use of an existing balance when creating a recurring subscription. Once you have finished, you will return to checkout to complete the transaction.

Are there any other payment options?
At this time, the only ways you can pay are the two methods available on our website. We cannot accept internet banking transactions or other payment methods that are not available at checkout. We are looking to add more for the future, though!
Yes. If you purchase a monthly subscription and then unsubscribe at any point in the month, your Premium benefits will last just one month. Or purchase one of the three plans at the bottom.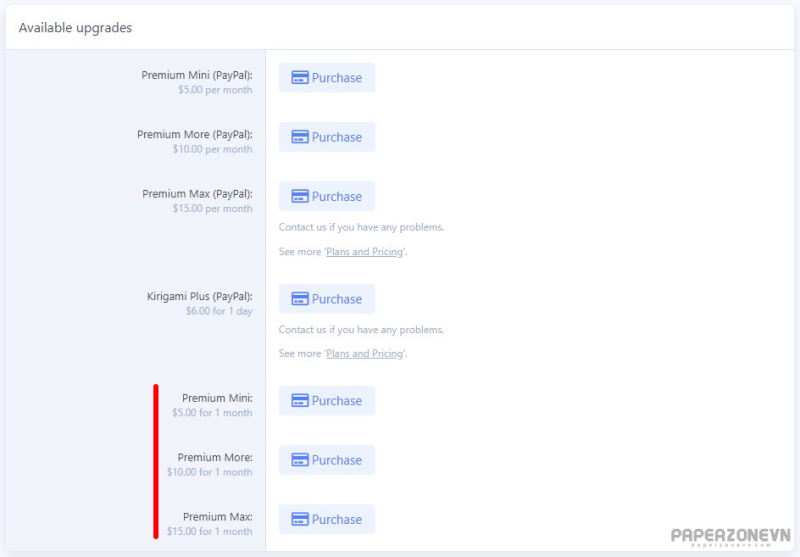 1. There are a few things you need to keep in mind when paying via Paypal. PaperzoneVN recurring subscriptions can be paid with:
Credit Card/Debit Card (Auto-Debit Payment)
Paypal Balance/Prepaid Card (Manual Payment)
Paypal Balance only cannot be used to set up recurring subscriptions. If you want to use PayPal Balance, you can choose manual payment.
You can use a prepaid card for one-time payment by selecting manual payment but You can't use a pre-paid card for a subscription payment.
2. If your credit/debit card is being rejected by PayPal with the message "The card you entered cannot be used for this payment. Please enter a different credit or debit card number." it might be due to one of the following reasons:
Your card is associated with a specific PayPal account, and you're not logging in with that particular account.
Your card was associated with a PayPal account that has since been closed.
You've linked the card to a PayPal account, but have not yet confirmed it.
You've exceeded your card limit with the PayPal system.
Your email address is raising a red flag in PayPal's system.
Your browser is not accepting cookies. You should clear any existing cookies and try again.
Sadly, but keep in mind that we will NOT give a refund to you. So think twice before participating. Thanks.
If you would like to change your account email to a different email, please
contact us
and we can help you!
Other issues
Please post a comment below this article.