Administrator
Staff member
Reputation: 100%
3/28/15
1,624
3,567
65
28
Valentine Papercraft Contest

​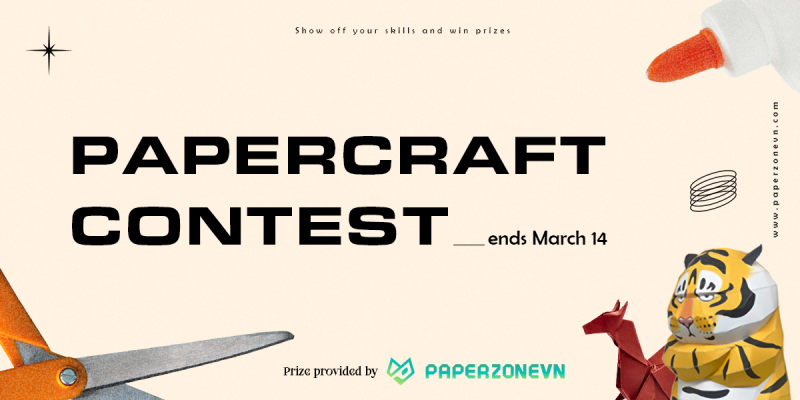 Warm up this Valentine with your amazing paperwork. This contest is open to all members of the site and will run from now until March 14, 2023.

How to Enter:
If you are a member of this site, hurry up and join the contest:​
Build any papercraft you like (paper model, origami, kirigami, .etc)​

Don't forget to tag #Paperzonevn, #Newyear2023, #Event and #Show in your Facebook post, as well as attach a link to the article on the Gallery Zone with your username.​
Entry Limit: Multiple submissions are allowed though only one of the entries will be judged. By participating this contest and submitting comment/picture/video, you agree to authorize and to provide the Sponsor to use, edit or share your comment/picture/video in other social media or marketing materials in the future without payment/prior notice to you. Participants are required to provide correct information. If any information is found to be incorrect or incomplete, participation entry shall be disqualified without notice. If any fraud or abuse found, the Sponsor reserves the right to disqualify any participation entry without notice and take necessary legal actions.

Important:​
Do not use works that have been posted on the Gallery Zone and PaperzoneVN Facebook group.​

Do not steal other people's papercraft photos or videos to participate.​
Winning Criteria
The contests with the most interactions and reactions will win one of the prizes below.​
1 First Prize: 1 month Premium Max​

1 Second Prize: 1 month Premium More​

2 Third Prizes: 1 month Premium Min each prize​

2 Consolation Prizes: 1 day Kirigami Plus each prize (for Kirigami players)​
Learn more about the prize at
Plans and Pricing
.
How to claim a prize
Potential winners will be announced after the contest ends. If a potential winner is disqualified, found to be ineligible, or not in compliance with these official rules, refuses to claim the Prize, the Prize will be awarded to an alternate winner. Prizes will be awarded directly to the winner's account.
(*) The contest will be canceled if there are not 10 participants, so please invite more of your friends to join.​